Did someone say Human Rights?
"Tottenham riots: This could happen in a dozen boroughs
I don't know what could have been done to avoid last night's explosion of resentment and criminality. But I'm grimly confident of its potential elsewhere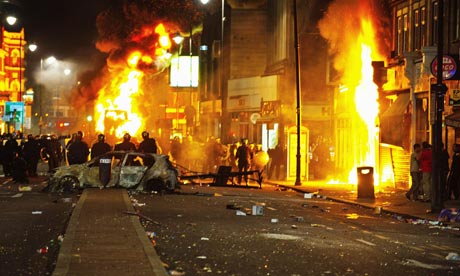 Instant punditry on such events is a perilous and often irresponsible pursuit, to be indulged only with caution until some cold, hard specifics have been nailed down. We do, though, have the evidence of history and contemporary reality to give grounds for deep anxiety about what may yet be to come. Last night's events exploded amid circumstances that create a kind of social tinderbox that needs just one fatal spark to ignite it.
In such a climate, an event such as the shooting dead by police of 29 year-old father of four Mark Duggan on Thursday night is more likely to provide in some minds, especially young ones, a pretext, a rationale or an opportunity to jettison any respect for the law or regard for fellow citizens and let rip.
Could the worst have been avoided? Might the police or the Independent Police Complaints Commission have made a better job of anticipating such trouble and so defusing it in advance? Such questions are already being asked, and not only on the streets. I don't know what the answers are, but feel grimly confident that such an awful, perfect storm of rumour, resentment and criminality could break in a dozen other parts of inner city London any day. These are nervous times."